People from a range of sectors, experiences and perspectives Participate in Ridgeway, all sharing a common commitment to Appalachia.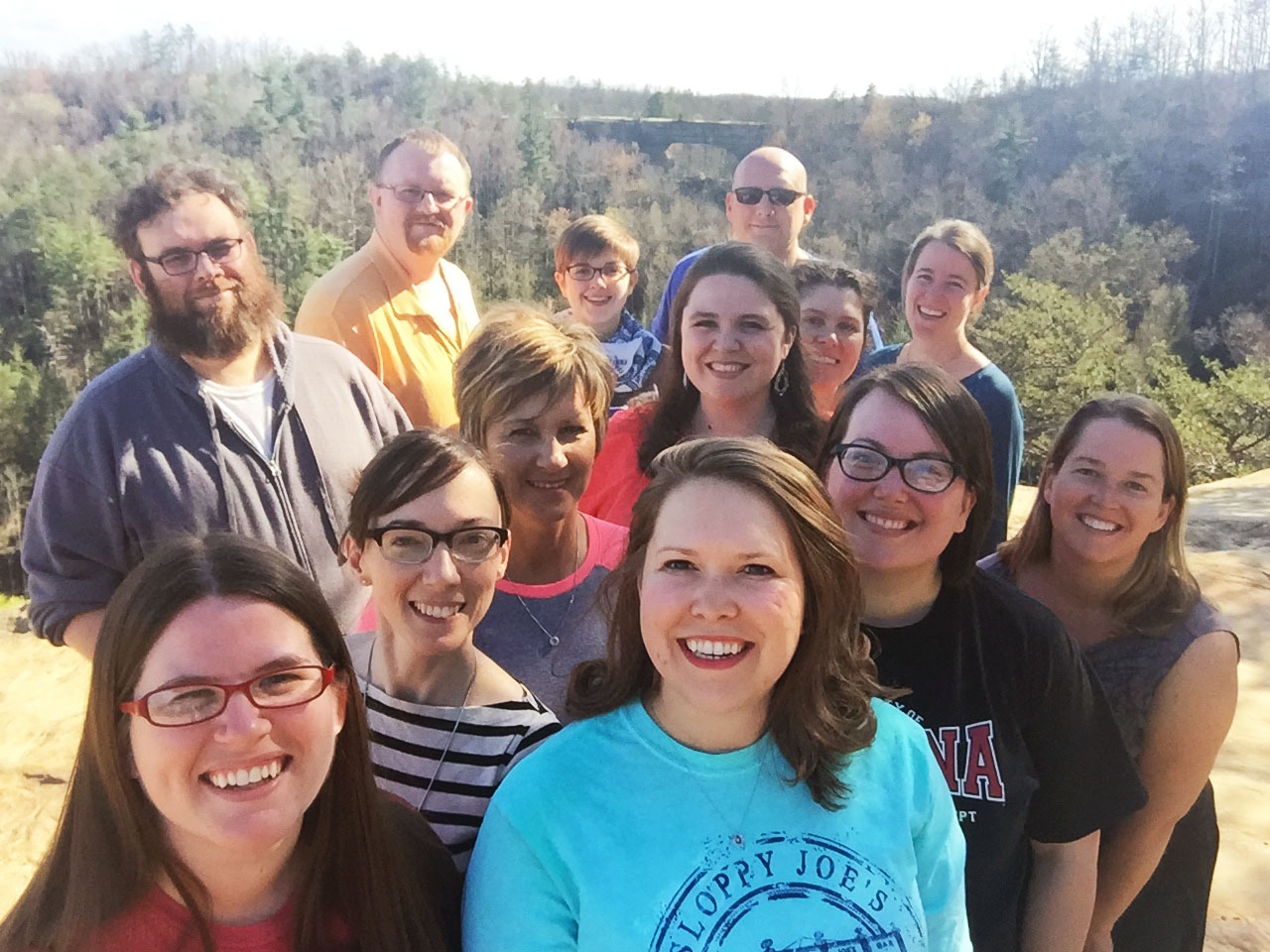 Participant Reflections on the Ridgeway Experience:
Mary Absher (2017-2018)
Retired Teacher & Non-Profit Volunteer
"I lost myself somewhere along the line trying to please everyone else. Now I am finding me and I'm more selective of the commitments I take on. I am more able to remain true to my vision as it develops and to value the journey. I am also listening more and keeping more of an open mind. I appreciated the shared love of Appalachia among our group and the willingness to change that we all had for ourselves and the region."
Regina Becknell (2016-2017)
Enterprise Development Project Specialist, MACED
"The Ridgeway Leadership Program is innovative, interactive and transformative. The essential foundation is based on the premise of supporting and developing the best you, you can be. It is understanding who you are, how you impact those around you and making enhancements to showcase your best self."
Bryce Baumann (2017-2018)
Farmer, Lazy Eight Stock Farm
"Ridgeway has provided a space to work on the things in my personal and professional life I would otherwise ignore. It was a rewarding, wonderful experience. I've teased out some hard stuff. The work of the program continues to be with me on a daily basis and I am seeing real results."
Joshua Bills (2016-2017)
Energy Efficient Enterprises Program Coordinator, MACED
"Ridgeway has opened my eyes to making probable what once seemed only possible. I now have a toolbox with all the right tools to not only get the job done, but to get the job done right and with ease."
Beth Bissmeyer (2015-2016)
Graduate Student in Social Work, University of Louisville
"This was a life-changing experience. I came into the program wanting to gain leadership skills and confidence so I could better do my job; I got that and so much more. Participating in this program opened up a space for me to learn and explore my direction in life in a way I never had before, while also building relationships with other participants and learning new skills and techniques for doing good work. I can't recommend this program enough. I am immensely grateful for this experience."
Ali Blair (2016-2017)
Entrepreneur
"Ridgeway gave me tools to examine how I show up in the world so that I can present my best self. I've experienced significant personal shifts that have allowed me to find peace with professional and interpersonal challenges, gain confidence in my abilities, step fully into knowing my chosen work is worthy and necessary in this time and space of transition, and have a better relationship with my family. Carrie is an expert facilitator and her ability to both hold the cohort and allow conversation and group dynamics unfold as they may is inspiring to watch and feels nurturing and safe from the inside. Carrie's personal example as well as the Ridgeway experience is giving me the freedom to choose physical, mental, spiritual well-being as a priority and necessary component for my high functioning, driven, passionate life."
Gwen Childs (2016-2017)
Executive Director, Berea Arts Council
"Ridgeway is a caring, safe and challenging space in which to grow. I can see and feel my experiences coming through in all aspects of my work and personal life. Ridgeway has shifted my perspective in a significant and positive way. I'm different and my relationships are different, which helps me bring my best self to my community."
Kristin Collins, (2015-2016)
Associate Executive Director, Foundation for Appalachian Kentucky
"The program completely changed my trajectory for my work in Eastern Kentucky. It helped me identify things I needed to change about myself and gave me the tools, confidence, and support to make those changes. It opened my eyes to the work happening in Eastern Kentucky and how I can play a vital role in that change. The program also gives me confidence that my cohort classmates are prepared and capable in leading this region now and in the future."
Jason Coomes (2015-2016)
Energy Programs Manager, MACED
"I found this program to be very helpful in identifying barriers I was bringing to my work and personal life - particularly, internal dialogues and frames through which I saw myself and my value personally and professionally. After participating in Ridgeway, I am better at recognizing the choice(s) I have in my reactions to stressful situations and making healthier ones, have a clearer sense of where my life work/career goals need to be aligned and am stronger at managing work/life balance!"
Sandi Curd (2016-2017)
Promise Zone Coordinator, Kentucky Highlands Investment Corporation
"'How can I change the world if I can only change me?' I found the answer and much more at Ridgeway. If you want to spend time with like minds, join your professional association. But if you want to transform, to grow and become a better leader and you are willing to spend time challenging your ideas and having courageous conversations, then the Ridgeway Transformative Leadership Experience is for you."
Treasure Hightower (2017-2018)
Marketing Director & Community Engagement Manager, SEEED Knox
"This experience blew my mind and expanded my world. I have been able to unpack several aspects of myself and confirm inner truths on a path to transform into the leader I am meant to be, both personally and professionally. Ridgeway has been incredibly meaningful for me and I recommend it to everyone!"
Amy Hogg (2017-2018)
Development Director, Kentuckians for the Commonwealth
"Ridgeway has been a gift – an opportunity to step away from my daily life and gain perspective on my work and myself, to learn and grow alongside folks from different professional fields and communities, and to meet some of the coolest people in our region. When I began the program, I thought I would gain leadership skills to enhance my work. But I've gained so much more – a better understanding of my contribution in the larger context of my family, my work, my community and our region. And it has been so much fun!"
Beth Howard (2016-2017)
Deputy Organizing Director for Leadership Development, Kentuckians for the Commonwealth
"Through working with Carrie and being a part of the Ridgeway cohort, I have seen myself having more confidence in my work and in my leadership. We have been able to do transformational work in how we show up in our work and that will in turn transform the region."
Mae Humiston (2016-2017)
CDFI Manager, Redbud Financial Alternatives, Inc.
"Ridgeway brings together a diversity of perspectives, experiences, and visions. It's not about 'fixing' anyone, but rather fostering the skills to reach the understanding that we need in this world."
Jerry Jackson (2017-2018)
PhD, Vice President for Enrollment & Communications, University of the Cumberlands
"This is the most unique, honest and authentic leadership group I have participated in. The Ridgeway structure and overall holistic philosophy provides a safe place to talk, explore and expose our dreams. It was exactly what I needed as I approached the next phase of my professional life and I will carry what I have learned with me forever."
Penny Jordan (2017-2018)
Chief Strategy & Finance Officer, Partners for Education at Berea College
"I grew throughout this experience and I'm not sure I would have gotten to the place I am now without it. My favorite activities at Ridgeway were those that allowed for introspection and self-awareness. As a leader it is critical to understand ourselves and Ridgeway helped me gain deeper knowledge about myself that will shape how I lead moving forward."
Amelia Kirby (2015-2016)
Development Director, Appalachian Citizens Law Center
"The combination of approaches, the pacing, the succession of concepts and exercise--it was gentle and unobtrusive but incredibly effective, particularly at building toward genuine transformation. I thought the content of the cohort was going to teach me how to do my job better, and instead I found that it taught me how to be myself better -- which of course, by extension, means I can do any job better. The content was really fantastic. Deep and broad. Helped me probe and analyze some very significant aspects of my life and self. My hows and whys and the relationship of those two."
Angie Lewis-Bowling (2017-2018)
Life Coach & Victims Advocate, City of Williamsburg
"Ridgeway has changed my life. I would recommend this program to anyone that wants to "level up" professionally or personally. Usually what holds us back has nothing to do with the limitations we think are imposed on us by others and has everything to do with limitations that we impose upon ourselves. Once you get clear on the direction you want and have an honest look at what is holding you back, suddenly your goals seem possible."
Laura Meadows (2015-2016)
Vice President Single-Family Lending, JustChoice Lending - A Division of Fahe
"I showed up as one person and graduated as another. Through this program I have learned that everyone has the capability of being a great leader. This cohort showed me how to identify and expand on the qualities that I already possess and take that back with me to be the best version of me I can be for myself, my organization, and my Appalachia."
Anthony Newman (2015-2016)
Vice President of Marketing, Fahe
"Unlike many leadership programs out there, Ridgeway wasn't designed to present some sort of "optimal" leadership method or style. We were provided a supportive yet accountable environment to explore our own personal ideas of leadership and encouraged to set goals that saw that leadership manifest in our lives."
Tammy Owens (2016-2017)
Entrepreneur, Foxfire Farm
Sara Pennington (2015-2016)
New Energy & Transition Campaign Organizer, Kentuckians for the Commonwealth
"It was all excellent. I always had complete trust in where we were going in each session; each was a journey that led somewhere important. On the whole, it was exactly what I needed given where I am right now in my life and career. All the different types of learning and exploring we did, from the deeply personal, to the skills-building, to the cohort-level relationship building was really important to me. The balance and variety of all the different modes helped to make my experience as tremendous as it was. I think I knew that I needed to do some deeply personal work, figure some things out about *myself* in order to step into the type of leadership I needed and wanted for myself, and this program did just that for me. It all felt so purposeful and effective."
Taria Person (2016-2017)
Artist/Writer, Carpetbag Theater
"In Ridgeway | A Transformative Leadership Experience, Carrie's vibrant, fierce and gentle spirit fills the room making every encounter a safe one for all. Being a part of this cohort has been a welcoming space for myself, and has meant going on a personal scavenger hunt for all of the talents, greatness, and facets of myself that I thought were gone. Overall, Ridgeway is a bad ass experience, and I will hold it dear!"
Aaron Phelps (2016-2017)
Senior Media Producer, Fahe
"I dream big and I always have a thousand ideas running at once. Ridgeway has provided me with the leadership skills and tools to help me properly manage my time and delegate responsibility so I can see these dream projects come to fruition."
Jonathan Piercy (2017-2018)
MD & Assistant Professor of Family & Community Medicine, UK HealthCare Hazard
"Ridgeway gave me the opportunity to think deeply about how I can be the best version of myself and how I can be a positive force in the world. It gave me a stronger sense of who I am as a person and far more confidence about where my life is going. The insights I have gained and the connections I have made will last a lifetime."
Laura Poulette (2017-2018)
Artist & Entrepreneur, Meadow House Studio
"The Ridgeway Leadership Experience was truly transformative. I've found so much practical use in this work and have gained knowledge and insight into the parts of myself that have kept me from being my most effective. I've acquired tools and perspectives to help me move beyond unhelpful ways of being. It's thrilling to recognize that by putting this work into practice, I'm able to access my most creative, confident and authentic self."
Brenda Richardson (2017-2018)
Artist & Facilitator, Art Behind Bars Knox County
"I feel so much like I'm moving with wind at my back now. I felt held by you and by the group in ways that will be part of the strength I carry forward. This work is truly channeling love into the world and the region."
Heather Richardson (2017-2018)
Massage Therapist, Elemental Heart Therapeutic Massage & Bodywork
Les Roll (2015-2016)
Enterprise Development Project Specialist, MACED
"Ridgeway challenged me to understand what I could do to look at my work and my approach to work differently. I feel much more confident and comfortable in how I relate to my work, my office culture and my community."
Jessie Skaggs (2015-2016)
Community Organizer, Kentuckians for the Commonwealth
"I came into this program thinking it would help me learn how to bring my best self into work spaces and gain some practical tools to do that. I didn't realize what a significant impact it would have on my personal life, too, and how that was connected to my work life….This program really has been life-changing for me."
Kristin Smith (2017-2108)
Chef/Owner & Farmer, The Wrigley Taproom & Eatery and Faulkner Bent Farm
"I feel like I finally found my squad at Ridgeway. I came into the program in a time of personal and professional stagnation and Ridgeway provided a perfect place to connect with other awesome professionals working in the region. We gained effective leadership tools and the individual support we needed to reach our personal goals."
Gail Spradlin (2015-2016)
Executive Director, Hand in Hand Ministries
"Life changing to say the least! I have found that I have grown so much in my leadership just knowing that leaders come in all styles. I learned skills I will carry with me for the rest of my life."
Rebecca Tucker (2015-2016)
Data Analyst, Partners for Education at Berea College
"My Ridgeway experience gave me the grounding I needed at a time when I stood at a crossroads. I will be forever thankful for the guidance that Carrie gave, but in some ways the time away from my normal life was even more valuable. Ridgeway gave me the time and space to reflect, to plan, and consider my path. Carrie's guidance made me look at my values with earnest, and use them as a lens when making commitments for my future. This experience was amazing, and I will continue to utilize the tools and lessons for years to come."
Heather Warman (2015-2016)
Executive Director, Kentucky Environmental Foundation
"Ridgeway taught me to better understand myself and my leadership style and has given me a new appreciation for others' work styles and the necessity for a variety of approaches to complete a task. I have learned to better organize my work and my home life and feel more balanced as a result. It is a complex task to explore our own discomfort and one that takes a great deal of leadership and facilitation to accomplish. This program teaches you to deal with your discomfort and gives you the skills to understand how to work through it."
Affiliations and titles are listed as they were during or at the completion of the participant's initial cohort experience.